Task Cards: Do I have enough to pay with my card?
Task Cards: Do I have enough to pay with my card?
These task cards have your students determining if they have enough money to use their card to complete the purchase. 
These are perfect for older students who are making purchases out in the community, or those kiddos who find pizza and money to be motivating to do math! 


Comes with  208 task cards in 4 differentiated levels
✓ 4 Levels of Differentiation!  We've got all of your student's levels covered.  Errorless, Yes/ No, Write It In, Do the Math: Find the New Balance. 
✓ Low Prep
✓ Data Sheets (that are also EDITABLE) 
✓ Functional Life Skill
PDF | 8.6 MB | 68 pages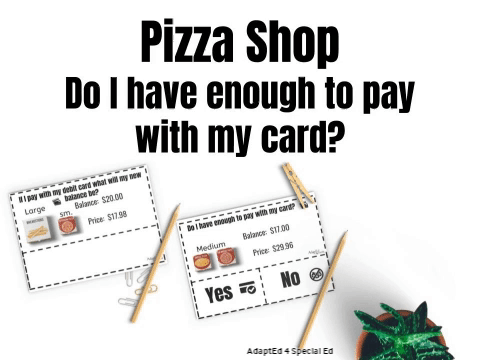 All pictures are real photographs in order to encourage generalization and independence.
This set is part of our Menu Math Series. 
What Other Special Educators Are Saying About Us
Once again the girls at AdaptEd 4 Special Ed have knocked it out of the park. These products can be used for all of my students despite the varied skill levels as they are easily adapted for different skill sets. I just love these products. My special education teachers have even started asking about where to find them.
- Nicole D.
Your asking questions packets are genius. This is such a hard skill and I am super excited to print these packs (I bought a few!) to add to my classroom. Thank you for the clever products!
- Shawn S.
These books have been so helpful with my students with special needs. They take me a while to make - but so worth it. The topics are great - useful and relevant. Thank you!
- Lisa D.
I love how students can practice their personal information in such a fun and exciting way! This is a must have for every low incidence classroom! This has inspired me to add this as an IEP goal for my young lo
- Ashley I.
Functional life skills
My students love doing task cards because they can work on them independently. These cards are perfect for teaching students purchasing/budgeting skills. Love that they are differentiated right down to the "errorless learning" level...allowing all students to be independent
and successful. Very functional and important skills taught in an engaging, interesting manner. Great value for the price! Now if we could only find a way to make printer cartridges less expensive!
Thank you for the great materials.
Can I Pay with my Card
Definitely enough cards (i.e. opportunities) for differentiation, consolidation AND revision later on, when they need a top-up! I don't like giving the same materials when a child needs another round of practice. With this product it feels like a new level/game and my kids love it.
Awesome
The task card system has truly changed the life skills math that I do. My students love the work and so do I!!!
Thank You
Love that I snagged these at the penny price! Great addition to my independent math stations!