Task Cards: Menu Math Pizza Shop | How Much Change? (Printable PDF)
Task Cards: Menu Math Pizza Shop | How Much Change? (Printable PDF)
This simple set, will teach your kids how to determine how much change they SHOULD get back, so they never get short changed again! 
Part of our Pizza Menu Math life skills series- these task cards have your students subtracting the amount they paid, to determine how much change they should get back.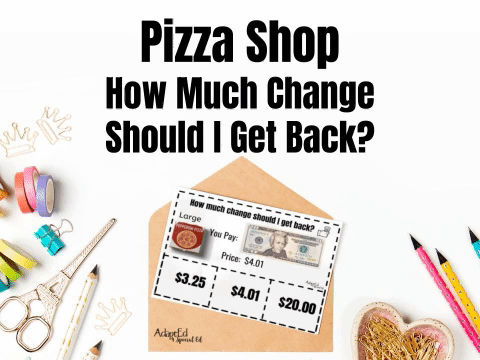 Your students will clip or circle the dollar amount they should receive back in change. 
312 Task Cards (4 per page)
✓6 Levels of Differentiation. We've got all of your student's levels covered. 
✓ Errorless, Field of 2, Field of 3, Field of 4, Field of 5, Write It In
✓ Data Sheets (that are also EDITABLE) 
✓ Low Prep
✓ Functional Life Skill 
PDF | 12.3 MB | 92 Pages
Set up is so easy, just print and laminate!
Increase the skill level by providing them with coins and bills and have your students make the amount of change. 

All pictures are real photographs in order to encourage generalization and independence.
Love these Cards
So quick and easy and super functional!