Task Cards: Next Dollar Up: Fast Food (Printable PDF)
Task Cards: Next Dollar Up: Fast Food (Printable PDF)
Get your students to master the skill of using the next dollar up method to purchase items at the store and in the community with these clip cards.
Set up is so easy, just print and laminate!
✓ 6 Levels of Differentiation! From errorless to write it in. We've got all of your student's levels covered. 
✓ Low Prep
✓ Data Sheets (that are also EDITABLE) 
✓ Functional Life Skill: Fast Food Themed
192 Task Cards!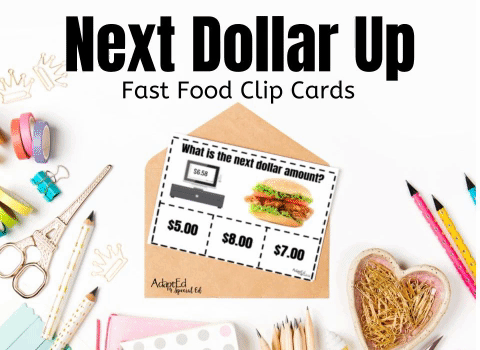 Students are to place the clip on the next dollar amount.

This is a great way to have students work on purchasing items and learning dollar up.
Increase the skill level by providing them with bills and have them create the next dollar amount. 

All pictures are real photographs in order to encourage generalization and independence.
What Other Special Educators Are Saying About Us
Once again the girls at AdaptEd 4 Special Ed have knocked it out of the park. These products can be used for all of my students despite the varied skill levels as they are easily adapted for different skill sets. I just love these products. My special education teachers have even started asking about where to find them.
- Nicole D.
Your asking questions packets are genius. This is such a hard skill and I am super excited to print these packs (I bought a few!) to add to my classroom. Thank you for the clever products!
- Shawn S.
These books have been so helpful with my students with special needs. They take me a while to make - but so worth it. The topics are great - useful and relevant. Thank you!
- Lisa D.
I love how students can practice their personal information in such a fun and exciting way! This is a must have for every low incidence classroom! This has inspired me to add this as an IEP goal for my young lo
- Ashley I.
Choose the Right Amount
This is a great activity for independence, level checking, and mastery of skills. i so appreciate that the pictures are of real items and not cartoon drawings. Thanks for a great tool!
OMG!
My upper level math student loved this today. He was very excited to use these cards. Before he left, he asked if he could do the cards again in the morning! Win!!! Thank you!
TASK CARDS: NEXT DOLLAR UP: FAST FOOD
These cards help my students understand how much money we need to buy fast food items. Thanks for the Cards WE LOVE THEM....
Penny Cards for the WIN!
I am all about the penny cards! I have been looking for independent activities for my high school life skills students. These cards are great! Not only did my class use them independently (because of the different levels) but I had them print them, laminate them and one of them used the paper cutter to cut them out for the class. YAY!
Perfect
Love using them in my small groups. Perfect for my special education class.