Opinion Thanksgiving Adapted Book (Printable PDF)
Opinion Thanksgiving Adapted Book (Printable PDF)
What do you like about Thanksgiving? I love spending time with my family and apple pie, but pumpkin pie makes me gag! 
This book is designed to help little ones or kids with limited verbal skills to share what they love about Thanksgiving while giving them a way to say what they don't like as well. 
8.6 MB PDF  |  25 pages

19-page book

+ Worksheets to send home

Picture/ word pieces with a sentence strip makes this book interactive. 
Set up instructions, picture pieces and sentence strip are included!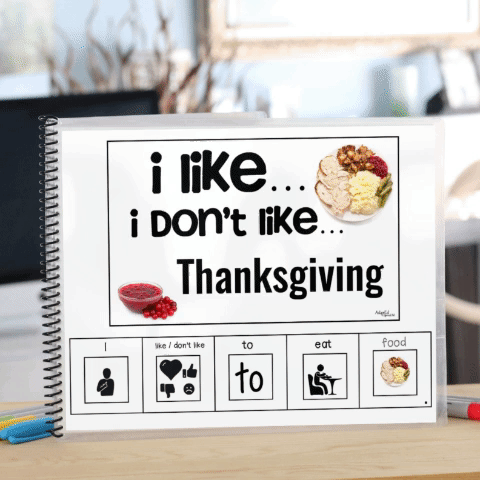 What Other Special Educators Are Saying About Us
Once again the girls at AdaptEd 4 Special Ed have knocked it out of the park. These products can be used for all of my students despite the varied skill levels as they are easily adapted for different skill sets. I just love these products. My special education teachers have even started asking about where to find them.
- Nicole D.
Your asking questions packets are genius. This is such a hard skill and I am super excited to print these packs (I bought a few!) to add to my classroom. Thank you for the clever products!
- Shawn S.
These books have been so helpful with my students with special needs. They take me a while to make - but so worth it. The topics are great - useful and relevant. Thank you!
- Lisa D.
I love how students can practice their personal information in such a fun and exciting way! This is a must have for every low incidence classroom! This has inspired me to add this as an IEP goal for my young lo
- Ashley I.