Task Cards: Fast Food | How Many Bills Do I Pay With? (Printable PDF)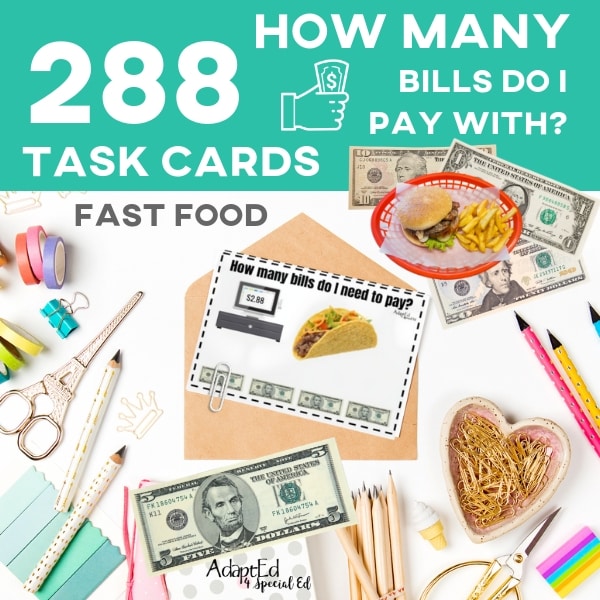 Awesome
My transition students loved this -- I had more comments like "yum" "I like that" etc. They loved the realistic pictures. I copied off more of the dollar bills so I had some count out while another counted on card. Worked perfectly!
Functional money
Love this resource! It is amazing how it uses $5, $10, $20 etc. I never thought about money this way but it an amazing teaching tool and also independent work.
Love it!
I absolutely love this task. My students know the value of money but have no concept of how much money to give someone when paying for an item. This task is helping them to grasp that concept.
Great for LS and Math skills
Love the differentiation. Can be used both in my math class and life skills class for students working on making purchases. Laminated and put in task boxes for independent work. Highly recommended.
LOVE IT
I started using the How Many Bills Do I pay With task boxes in my room today and my sweet kiddos just LOVE THEM. I highly recommend using them. I did something a little harder so I make the prices a little higher on a few but they work like a charm.
SPED EXPERTS
Materials Designed By Special Education Experts: Teacher, SLP, OT
Trusted By Educators
Supporting Over 40,768+ Classrooms
Instant Access
Digital downloads are delivered immediately upon purchase