Neurodiversity Training Handbook Resource Toolk...
$19.97 USD
What's Included?  85 Page Neurodiversity Affirming Handbook  9 Page Accommodations Bank 8 Page Parent Collaboration Information Pack  7 Page How to Write Neurodiversity Affirming Goals with Examples Get ready to dive into the "Handbook for Neurodiversity-Affirming Practices" – your new BFF in embracing and celebrating the beautiful spectrum of our students' brains. This isn't just another resource; it's a love letter to every brain that ticks a little differently. ADHD, Autism Spectrum, 'masking' and its mental health impact, neurodiversity-affirming language, accommodations/ IEP Goals - you name it, we cover it.  We're here to help you become more than just aware – we want you to be a champion for your neurodivergent students. It's jam-packed with real-world, actionable steps to help you create a learning environment that screams, "You are valued! You are understood! You belong here!" The Handbook for Neurodiversity-Affirming Practices is more than just a guide; it's a game-changer, a mindset shift. It's about embracing and working neurological differences to create a space where every student can thrive, just as they are. Let the Handbook for Neurodiversity-Affirming Practices be your guide on this incredible journey. ___________________________________ Copyright © AdaptEd 4 Special Ed Permission to copy for single classroom use only. Please purchase additional licenses if you intend to share this product.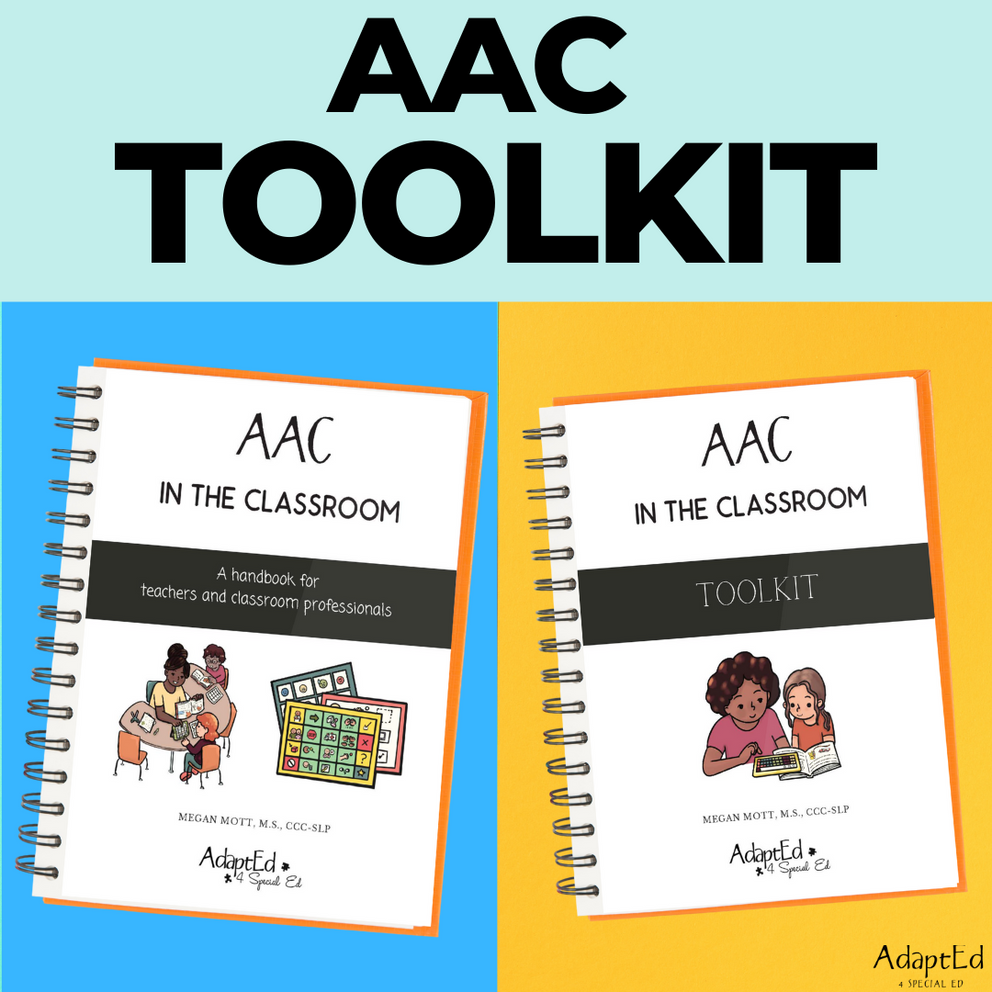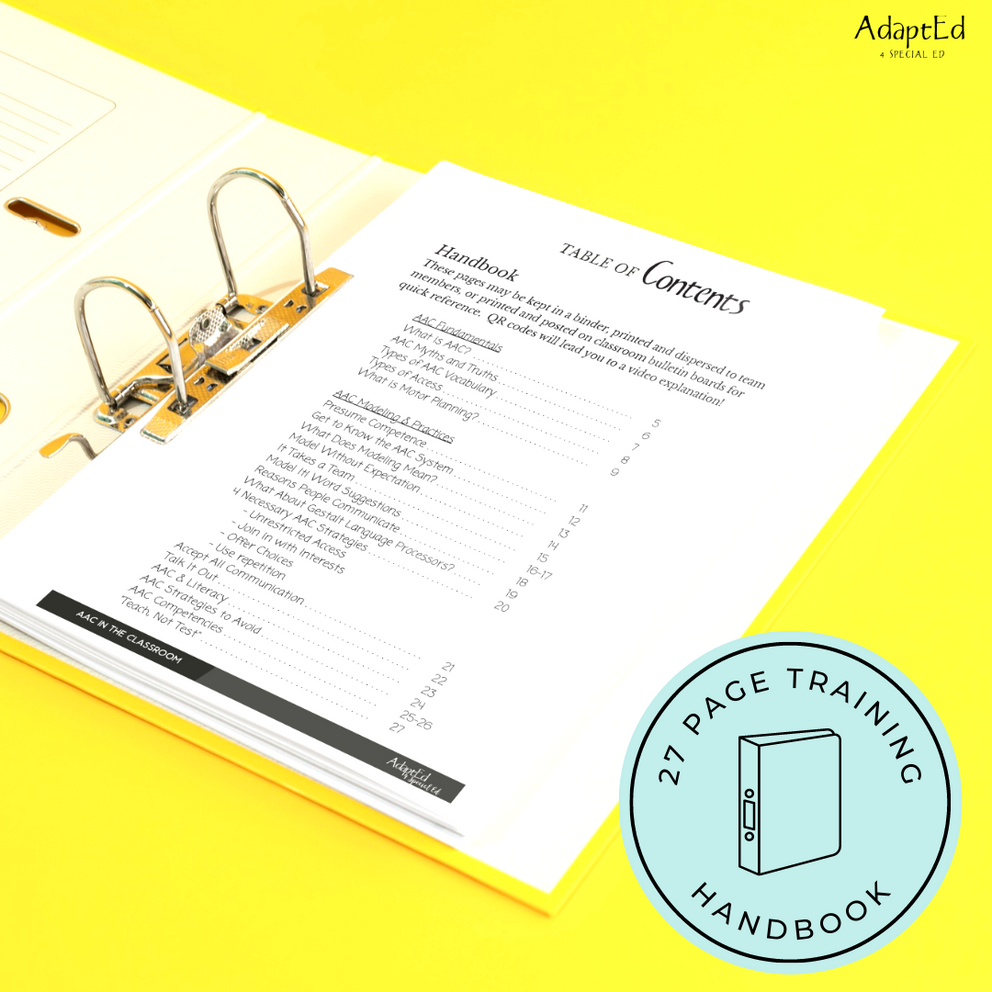 AAC Implementation Training Handbook Resource T...
$39.97 USD
The AAC Handbook and Toolkit is a great resource for educators who want to ensure the entire team (parents, teachers, support staff, etc.) has the knowledge and resources necessary for implementing and teaching AAC.   My love of AAC began years ago, when I worked with my first AAC client fresh out of school- an amazing girl with Cerebral Palsy who opened my eyes up to the world of AAC. Along the way I've learned that many of us, no matter how great our intentions are, struggle to implement AAC in a way that works for students & their teams.  My passion and goal is to make AAC implementation more straight-forward (and more enjoyable because AAC is so dang necessary)! This AAC handbook gives you the information you need to get the whole team (teacher, SLP, professionals, paraprofessionals) on board with current AAC strategies.  This resources includes three sections as follows: AAC Training Handbook  AAC Toolkit  the visuals and materials you need to embed AAC naturally throughout the day.  + Video Instruction for each material to ensure the team knows how to implement each strategy effectively.  AAC Data Sheets  AAC Participation Plan   As a licensed SLP, I've had a lot of experience with AAC.  I've witnessed, many times over, that AAC success hinges on one very important factor: consistency. AAC users need and deserve consistent exposure to communication and modeling.  To get this consistency, they need all important members of their life on board with their communication system.  It's no secret that many educational teams struggle with AAC consistency.  Do I believe that this happens because teams don't care or put in the effort?  No.  I believe it happens because teams need more support. A handbook can help people learn the basic skills that they need.  (And that's why I wrote one!)   But I don't believe in stopping at a handbook. I believe in supporting teachers and educational professionals in incorporating AAC into classrooms in a way that is simple, cohesive, and natural.  So, enter the AAC in the Toolkit. This kit delivers a plethora of materials to get you started with ease.  Because your team doesn't just need AAC info dumped in your laps- - - You all need practical ways to help you implement what you've learned. This resource also includes data sheets, classroom visuals, Google Slides access to edit the icons, core vocabulary boards, clear directions for modeling, AAC research citations, staff handouts, and so much more! This packet does not include information about AAC assessment (which is really a separate training that is valuable to seek out).  It is also important to note that this product may be used with any type of AAC.  It will not give any device-specific information. If you have any questions about this packet, please email me at krystie@adapted4specialed.com and I'll get back to you as soon as possible. ___________________________________ Copyright © AdaptEd 4 Special Ed Permission to copy for single classroom use only. Please purchase additional licenses if you intend to share this product.
Get 10% OFF Phonemic Awareness Activities
SPED EXPERTS
Materials Designed By Special Education Experts: Teacher, SLP, OT
Trusted By Educators
Supporting Over 40,768+ Classrooms
Instant Access
Digital downloads are delivered immediately upon purchase