ProductContent
Opinion Thanksgiving Adapted Book (Printable PDF)
Opinion Thanksgiving Adapted Book (Printable PDF)
Product Description
Description
What do you like about Thanksgiving? I love spending time with my family and apple pie, but pumpkin pie makes me gag! 
This book is designed to help little ones or kids with limited verbal skills to share what they love about Thanksgiving while giving them a way to say what they don't like as well. 
8.6 MB PDF  |  25 pages

19-page book

+ Worksheets to send home

Picture/ word pieces with a sentence strip makes this book interactive. 
Set up instructions, picture pieces and sentence strip are included!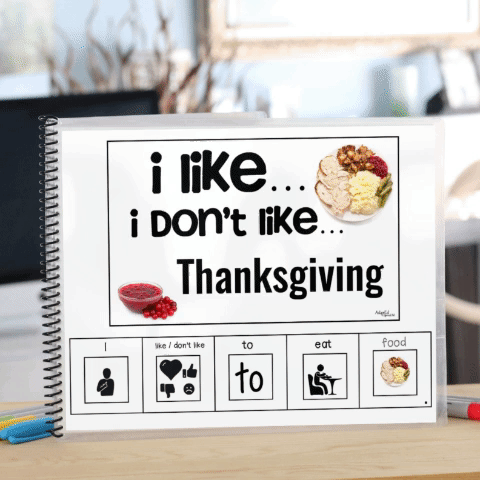 This is an awesome resource! I used it in a group right before Thanksgiving and it was the perfect activity.
Another amazing product you have made! It perfectly fit my needs for assessing if students multiple speech therapy goals for my ECSE students! Thank you!
worked with my students before thanksgiving to work on vocabulary. Great resource.
Great
I teach Prek. we do a lot of pretend play. These are great the students love preparing the foods.
Thanksgiving Opinion Book
My students read this book today in class. They really enjoyed it. The photos/visuals were great!